Nemico
Humanoid. Eztli. Elite.
Combatti: 5. Salute: 4. Eludi: 4.
Danni: 2. Orrori: –.
Alert. Retaliate.
: Parley. Test (4) to convince Ichtaca you are not her enemy. If you succeed, place 1 clue on her. If you fail and Ichtaca is ready, she attacks you.
Victory 1.
Magali Villeneuve
L'Era Dimenticata #52. The Untamed Wilds #10.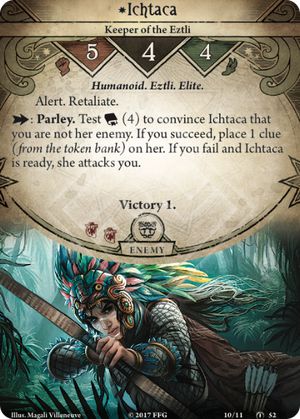 No review yet for this card.