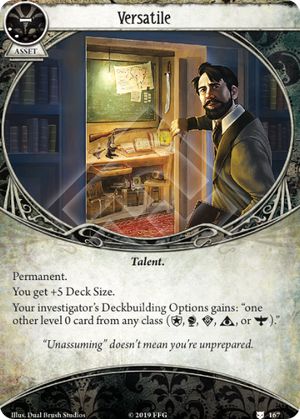 The actual strengths/weaknesses of this card have been articulated very well in other reviews. However, this card does something that I think many players will actually enjoy and value that isn't necessarily to do with how powerful your deck is.
I'm a pretty casual player, and I often find myself trying to make a deck being aware of the strong cards. However, at the same time I also really want to try out a different theme or some new interesting cards without knowingly gimping the deck too much. For example, I might be looking at a mystic deck with some core spell assets, but I do really want to try out some of the less common event spells too. However, deck slots are scarce and I run out of space for the fun cards. Sure, I could really figure out a deck without the staples and roll with it, and there's great fun in the challenge of that. But other times it's nice just to have the staples AND some fun stuff, particularly as someone who doesn't actually play the game lots and so has fewer opportunities to try things out.
Versatile allows me to get more cards for fun things like this, even though yes this is actually generally a downside to the card. (Admittedly, being co-op I could always house rule higher card limits, but I like playing to the rules to be honest).
The second thing it does is let you take any level 0 card. This may not be super powerful but can be nicely thematic and flavourful and add to the narrative, which is something that I think some players will get a kick out of. Perhaps Joe Diamond likes a cheeky swig from a bottle of Liquid Courage. Or maybe Ursula Downs never goes on an expedition without her trusty Survival Knife. Or maybe Nathaniel Cho just gets a bit vicious sometimes and uses a Baseball Bat. I think these options would appeal to some players and it's nice to have cards the enable this kind of thing.