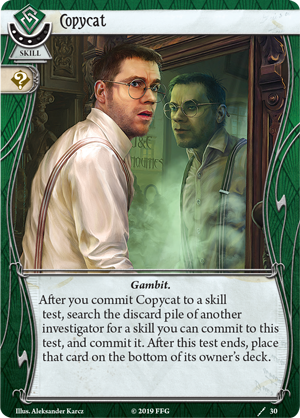 Pros
Cons
Obviously it's only good in mulltiplayer and you'll want at least one of your teammates to be running some good skills. Generally though I haven't found that to be a problem, there are plenty of good skills out there and even pulling out an Unexpected Courage nets you a boost.
Ideal targets are in Seeker with:
and Guardian with:
And not only do you get the benefit but goes back in their deck to redraw so between you and your teammate it's perfectly possible to play a single Deduction (2) 3 times per deck rotation.
The main downside is the XP cost which is prohibitive in Rogue with so many powerful cards to spend their XP on.
Conclusion
If you're Winifred Habbamock and one or more of your teammates has relevant skills I highly recommend including this card, it's both powerful and great fun to play!
If you're a different Rogue investigator it will still be good if your teammates have high impact skills but you'll have to carefully consider the XP cost vs other potential upgrades.