Yig
The Father of Serpents
Nemico
Ancient One. Serpent. Elite.
Combatti: 4. Salute: 6. Eludi: 4.
Danni: 3. Orrori: 3.
Hunter. Massive.
Yig gets +6 health.
Yig cannot be damaged while there is another ready Serpent enemy at its location.
Each other Serpent enemy at Yig's location gains alert and retaliate.
Victory 5.
Helge C. Balzer
Abissi di Yoth #296. Abissi di Yoth #20.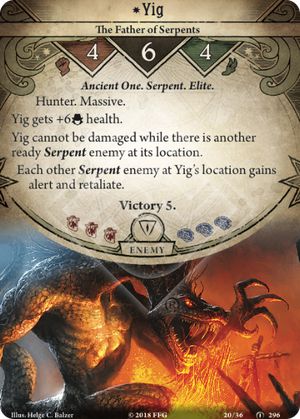 No review yet for this card.