Nemico
Monster.
Combatti: 6. Salute: 5. Eludi: 3.
Danni: 2. Orrori: 1.
Spawn - Farthest empty space.
Hunter.
Mindless Dancer can enter empty space as if it were a location.
Forced - After Mindless Dancer moves to an empty space via its hunter keyword: Resolve its hunter keyword again. (Limit once per round.)
Helge C. Balzer
Before the Black Throne #341. Before the Black Throne #24-26.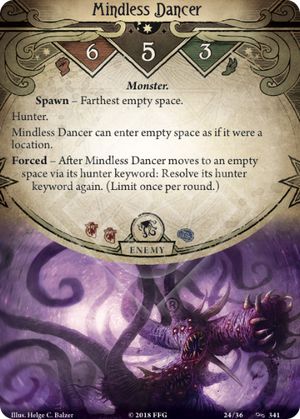 No review yet for this card.