Capitolo. Stage 2
Indizi: 0
Glowing words continue to appear on your note. "Time flows differently in the next chamber," it reads. "If you do not act quickly, you will decay into ash."
Timed - Do not advance this act until you are instructed. When the agenda advances, there must be at least 11 doom in play. (Beware— If the agenda advances and you do not meet this condition, each invesigator in this group will be killed.)
Anthony Devine
I Labirinti della Follia #11. The Labyrinths of Lunacy #5.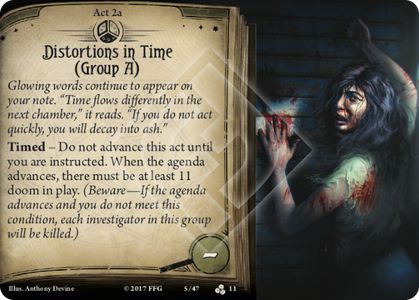 Capitolo
If there was at least 11 doom in play when the agenda advanced:
You spin the dial on the device to its maximum value, struggling to keep hold of it as your muscles tighten and you begin to decay. The dial stops with a click, then slowly you are able to continue turning it in the same direction. You are in intense pain as it slowly turns, round and round, finally making it way back where it began. The air thins, and time returns to its original pace.
Resolve Act 3 Setup.
---
b>If there was less than 11 doom in play when the agenda advanced:
Your muscles and skin tighten, and you feel your body draining of energy. You try to scream, but no air escapes your throat. Your organs shrivel and decay. "The fate that inevitably awaits us all," a sinister voice explains. Within minutes, you are naught but dust.
Each investigator in this group is killed. (→R1)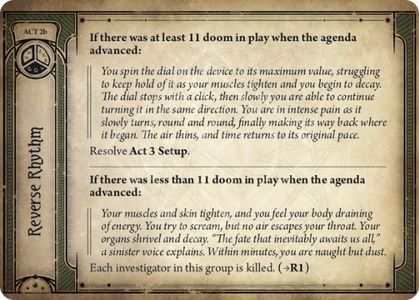 No review yet for this card.