Nemico
Humanoid. Servitor. Elite.
Combatti: 2. Salute: 6. Eludi: 3.
Danni: 2. Orrori: 2.
Hunter. Retaliate.
Eixodolon gets +6 health and cannot be defeated by damage.
Forced - When the enemy phase begins, if there is a copy of Harvested Pain in the victory display: Ready Eixodolon.
Victory 3.
Ilich Henriquez
I Labirinti della Follia #48. The Labyrinths of Lunacy #24.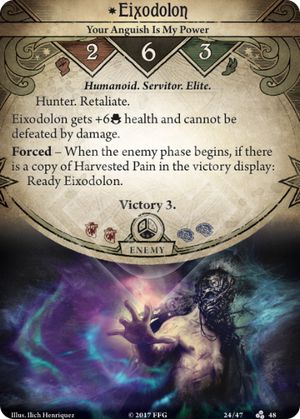 No review yet for this card.