Nemico
Monster. Elite.
Combatti: 3. Salute: 12. Eludi: 3.
Danni: 2. Orrori: –.
Spawn - Nearest Labyrinthine Halls.
Hunter.
Eixodolon's Note gains: " Fight. Use only on The Jailor. Use either or for this attack. If you succeed, set The Jailor aside, out of play. At the end of the round, move The Jailor to another group's Labyrinthine Halls (it keeps all tokens and attachments)."
Victory 5.
Nicholas Gregory
I Labirinti della Follia #51. Epic Multiplayer #17.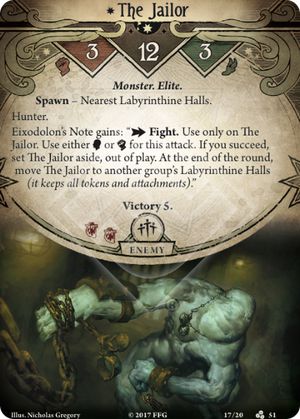 No review yet for this card.