Supporto. Arcane
Incantesimo
Costi: 2. XP: 3.
Icone Abilità:
Puoi includere questo supporto nel tuo mazzo solo migliorandolo dai Geroglifici Arcani (Non Tradotti) e solo se "i geroglifici sono stati tradotti".
Utilizzo (3 cariche).
Spendi 1 carica: Indaga. Se hai successo, puoi mettere in gioco 1 supporto dal costo stampato pari o inferiore a X dalla tua mano, dove X è l'ammontare di punti di cui hai avuto successo.
Anna Christenson
Return to the Path to Carcosa #4.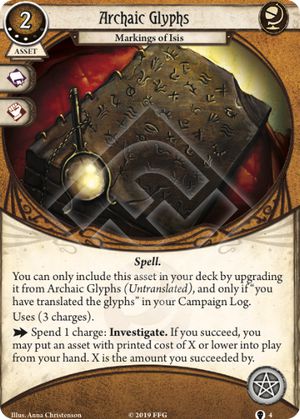 No review yet for this card.