Investigatore
Stregone.
Volontà: 5. Intelletto: 2. Scontro: 2. Agilità: 3.
Salute: 6. Sanità Mentale: 8.
Dopo che 1 o più orrori sono stati collocati su di te: Infliggi 1 danno a un nemico nel tuo luogo. (Limite di una volta per fase.)
Effetto di : +1 per ogni orrore che possiedi.
"Ricordo un'altra vita, fatta di stregoneria e conquiste."
Magali Villeneuve
Scatola Base #4.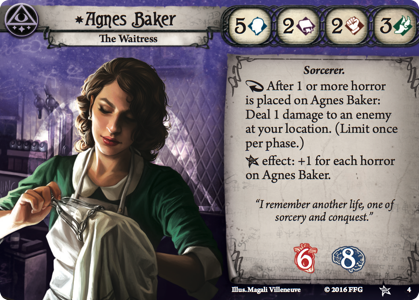 Investigatore
Dimensione del Mazzo: 30.
Opzioni del Mazzo: Carte Mistico () di livello 0-5, Carte Sopravvissuto () di livello 0-2, Carte Neutrali di livello 0-5.
Requisiti del Mazzo (non considerati nella dimensione del mazzo): Cimelio di Hyperborea, Ricordo Oscuro, 1 debolezza base casuale.
Agnes Baker sarà anche soltanto una modesta cameriera in questa vita, ma in una vita precedente, in un tempo e un'epoca mai immaginata nel mondo moderno, era una potente strega. Tutto iniziò quando trovò uno strano artefatto, una sorta di chiave, in una polverosa collezione di cimeli di famiglia in soffitta. Quando la toccò, i ricordi riaffiorarono, assieme a una parola: "Hyperborea". Più scavava nelle visioni e nei ricordi della sua vita passata, più l'intensità dei suoi poteri cresceva... e più tutto questo la spaventava.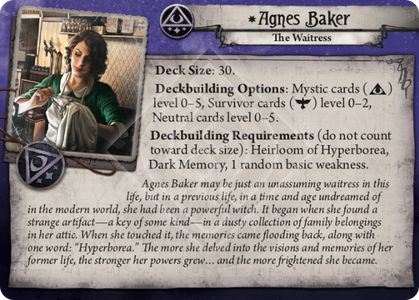 You cannot use Agnes' ability if you assign horror to an asset.
Last updated
Can I play with Agnes?
Give me the sense to wonder
To wonder if she's free
Give me a sense of wonder
If they've picked her before me
Give me the strength to hold my hand out
And pick that youthful face
Don't need xp to unlock this deck
Gonna play through it all
Break me into that bad place
[Chorus]
Can I play with Agnes?
She'd look so cool with a crystal ball
Can I play with Agnes?
Her evasion's rather small
Can I play with Agnes?
The players looked at me and laughed at me (ha ha) they said:
Can I play with Agnes?
Use blinding light, its fine, you`ll seeee
Woah, they said use blinding light you`ll see
I stared hard at the encounters
I said I'll Scry, I'll see whats below
We can prepare for this mischief
For two cards and the next
Oh then I fixed them with a freezing glance
You could see the fear in their eyes
I said you wanna know the truth son?
Well I'll show you the truth
Its an agility test needing five or higher
[Chorus]
Listen to me, said the players
[Chorus]
Can I play with Agnes?
Jesus, that is beautiful! —
lukas · 14
Can I hit the like button multiple times please? —
m3Ss1 · 1
Awesome Iron Maiden reference! —
Felagund · 409
Great. Now I gotta record a cover song and blast it everytime somebody pulls out an Agnes deck. —
H0tl1ne · 18
Thank you so much for this work of art! Up the Irons. —
humbas · 13